There was a Banksy show in Los Angeles not too long ago. There was one in San Francisco, too. Shows have opened in recent years in Atlanta, Warsaw, Dubai, London and NYC and countless other cities around the world. They are not real, mind you, or sanctioned or authorized by the artist. When one of these unsanctioned shows made its way to South Korea, visitors in Seoul rightfully demanded their money back, complaining that there weren't enough authentic Banksy works in the exhibition. It's like there was a world tour of Banksy shows, but the star of the show wasn't even on the tour bus, so to speak.
So when Cut and Run was announced a few weeks ago, it was hard to figure out, at least for the first few hours, if this was indeed a real Banksy show or something that was curated by others and blessed by the artist as it was set to open. But it was quickly confirmed: the Gallery of Modern Art, Glasgow was to host the first solo show by Banksy in over a decade; an exhibition of stencils and stories from the artist that engage in his prolific and ultimately singular career. It was, in a way, his autobiography. (You also can't take pictures in the exhibition, which makes you have to experience the show as its meant to be: in the moment.) 
When we first heard of the show, and luckily Juxtapoz was in Aberdeen for the nearby Nuart Festival so we could attend the opening of Cut and Run, it reminded us of the last few years and the questions we would get in our inbox. Personally, for the amount of messages I have received in my inbox over the last two years, asking me about these unauthorzied shows, from friends and colleagues, debating whether or not the shows were "real" or "sanctioned," it became a question of how these shows are marketed. Many people who know of his art may not have been lucky enough to see his work in person, haven't had the pleasure of turning a corner and seeing one of those iconic stencils so ideally placed. Most people didn't get a chance to visit Dismaland, The Walled Off Hotel, Barely Legal or Santa's Ghetto. The unauthorized shows take full advantage of this, they claim to celebrate the man and his art while charging upwards of $25 per ticket, one can't help but see them more as hollow, cynical exploitations of Banksy's anonymity for commercial gain.
Those unauthorized shows strip away the authentic dialogue Banksy has had with his audience. The shows make us the butt of the joke. Is this work real or fake? Did Banksy give work? Is this a real experience similar to Dismaland? This is where these shows are dangerous, why they were becoming so damaging to Banksy's career. They took our special connection to the artist and sold a fake experience, and the interchange between us and Banksy is reimagined beyond comprehension, without the artist. Not only is this the first time we have ever seen this at this scale, it was potentially altering the way he was written about and critically assessed for years to come.
Immediately, Cut and Run does that thing that all of these unauthorized and rather clumsily fake shows couldn't do: they didn't have the stencils. They didn't have the sketchbooks. They didn't have the stories. That distinct voice. They would never have the ability to pull back the curtain ever-so-slightly and tell us how graffiti allowed for him to find his artistic voice and how making work on the street has afforded him the ability to touch so many lives, find so many ways to challenge authority and political power structures, but perhaps, most importantly, the amount of fun he has had being the Robin Hood of the contemporary art world. Cut and Run does all of this, and also puts into context that Banksy isn't just making punch lines at the powers that be, but someone who has a consistently growing craft and growth as an artist, enlightened by growing crisis' around the world and finding ways to explore his own political views through the simplistic medium of the stencil.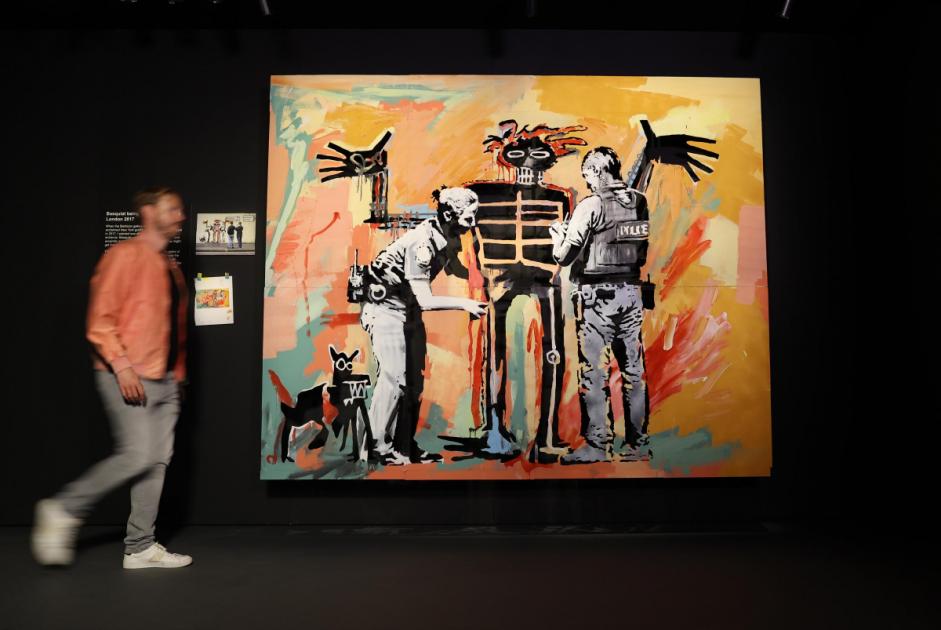 Where Cut and Run is most effective is the flow. You enter the exhibition with an explanation as to why Banksy chose the Gallery of Modern Art as the perfect place to have a solo show (he loves the traffic cone that is consistently placed atop the Duke of Wellington statue in front of the museum). You then pass a recreation of the artist's studio desk, and get a bit of a glossary of art on the streets terminology, only to turn and face the dramatic and show stopping Jean-Michel Basquiat stencil from the Barbican. After this, you get a tour of Banksy's work over the years, through protest and anti-authoritarian works, stories of how he places works in The Met, stenciled in Ukraine, even an in-depth explanation as to how he shred his infamous balloon girl piece at Sotheby's live after the hammer dropped. Dramatically you walk in the main atrium of the gallery and get a recreation of the Meat Truck from his NYC street residency, as well as numerous recreations of his most-famous stencils (which, again, is a reminder at the sheer scale of the stencils, a wonderful insight at how larger than life his works actually are). 
But the curation soars at the end; because you end at the beginning. This is where you get the Banksy origin story, why he chose to work on the street, how his most famous works were sketched and how they evolved from those notebooks to the street. You see his hand, that actual part of the Banksy story that really hasn't been apparent in the last 25 years. Banksy always felt like an enigma to a detriment; and the end of Cut and Run that begins to dissipate a bit; it's all about the hand, the personality, something more honest and human than we have ever got from him in the past. This is why, even if you are a bit of a skeptic of his work, this final room will make him seem more of an artist than ever before.
The show ends with a comic strip, a new work, that tells the story of how he came to find his voice, from some not-so-subtle encouragement from his mother and sister, and you see a personality here that again, makes all the unauthorized shows irrelevant in comparison. This is Banksy, and those shows never really had a Banksy. 
Cut and Run had me thinking about all the times I wanted to write about Banksy and these unauthorized shows. It also made me think why Banksy hadn't had the opportunity to tell this story before, whether on his own accord or some sort of blacklisting from the world's museums?  Perhaps the issue that the contemporary art world has with Banksy and a number of his peers, is that they arrive at the institutional doorstep already famous. Famous for work done without an overarching critical assessment or review by the establishment, and popular to those who do not need art criticism to justify who they like or appreciate. Banksy connected with people by putting art on the street and therefore directly into their daily lives, without permission. And, without permission from the establishment, he became the most famous artist of his time. Critics, academics, curators, categories that I admit I fall into, like to be the ones to discover an artist, to create a story and narrative that we deem worthy of critical attention and historical merit. In Banksy's case, most of that work was done on his own, creating the foundation for an entirely new art audience. There may be an allergy to his success in the institutional world because he was discovered by us, and in a way, not by the art world system.
This show will change the way museums think about shows with living artists because this space allowed for an artist to tell their own story within the system and tradition of fine art. Glasgow as a city will benefit. We often talk about how "secondary cities," cities that aren't London and NYC and Paris that are littered with major art museums on every city corner, need to utilize their art galleries in new ways. The Gallery of Modern Art lies directly in the center of Glasgow, and when the show was announced, there was a buzz around the city that congregated right at its heart. The GOMA space itself felt like it came alive, and all the central cafes, shops and restaurants were all speaking about how Banksy would change the city, make it more fun for the summer, maybe change the way the residents think of their museum for years to come. That is a special quality that an artist of this caliber, so rare and perhaps unmatched in terms of fame, can do. This is another critical part of the Banksy story; the ability to change the way we look at a city and place, create a new chapter in his career that is attached to a place, and Glasgow is the newest part of the ongoing book.
If you were to ask me last year what I thought about these unauthorized shows, I would have said they create obstacles that prevent a real conversation about the lifetime work of Banksy. They dehumanized a profoundly human body of work. They were false representations that lack context, substance and the wry punch lines that Banksy is so famed for, and highlighted how much the institutional contemporary art world was missing by not recognising Banksy as one of the most innovative and important artists we will see in our lifetimes.
Cut and Run changes the narrative. Maybe these unauthorized shows challenged Banksy himself to show a more human side, to show us his artistic hand and perhaps retire some of his stencils with a bit more of an openness he was reluctant to share in the past. This is a great show not because it meets the criteria of what a museum show should be but because it does the exact opposite: Banksy made something entirely his own within the framework of the institutions without giving anything up in the process. 
In reflection of the last few decades, it's clear that Banksy created entry points into the art world without even stepping foot in it. He was rebellious and primal, instinctual and goddamn hilarious when he needed to be. And yet one of the key characteristics of his work was that the butt of the joke was never the "man on the street," so to speak. His audiences were part of provocative conversations about abuses of power, about injustices and social critiques. And sometimes, the work was just plain fun. We were with him. The streets could be ours. Art could be ours. It's been an incredibly special relationship he garnered, a generation defining artist if ever there was one. Cut and Run keeps that promise. —Evan Pricco  
Banksy: Cut and Run is on view at Gallery of Modern Art, Glasgow through August 28, 2023. Get tickets here: https://cutandrun.co.uk/
Check out some of our recent short videos: