For decades Michael Jang flew under the radar, his career as a professional artist first gathering public acclaim in 2001 with the submission of a portfolio of images from the 1970s to the San Francisco Museum of Modern Art. Like Jang's oeuvre, the underground setting of this latest exhibition presented by Lee Gallery shifts our everyday coordinates—what's right under our noses, on the streets and sidewalks? If you haven't been paying attention, this exhibition is your alert to an artist making their literal mark on the city and redefining what their prime looks like.
Post No Jangs: Notes from Underground opens in the basement of Crown Point Press, directly across from SFMOMA, where pristine black and white gelatin silver prints by Jang live in the permanent collection. You won't find any clean photographs or murals hanging on the walls here though. Installed with the help of longtime friends and collaborators, assistant Brent Willson and curator Adrian Martinez, Jang's most recent works demand physical engagement: mounted on plywood, some sit in the hallway floor, others are arrayed like an altar in the main room. Ripped and written over, stickered over, these images leap out at the viewer. Such ad hoc layout directly expresses the mode of working on the street and epitomizes the spontaneity and community that have been core tenets of Jang's career.
At his solo exhibition at McEvoy Foundation for the Arts (2019–20), it was the backroom with its graffitied pictures tacked to the wall which first hinted at this series developed during the pandemic. In 2021 Jang was awarded a Guggenheim Fellowship to continue stretching the limits of photography; with the words "Post No Jangs," the artist teasingly proclaims his own blacklist, transforming the stenciled tagline into a new calling card. The art world may be familiar with his more traditional photographs, but what San Francisco knows is that the sharpest street artist out there wheat-pasting and spray-painting is a septuagenarian fluent in pop culture and a visual vocabulary that tackles everything from takeout food to anti-Asian violence. —Paulina Choh
Below is an excerpt from an upcoming interview with Michael Jang to be published soon.
Alex Nicholson: Tell me what you've been up to since we last talked in 2019.
Michael Jang: Since we last talked I've turned seventy and I think that's almost a story right there! If I had known retirement would be this much fun, right? Just in the last year, there's been a Guggenheim Fellowship, I've started working with a renowned gallery rep, I had a 40-foot wheat paste commission for SFMOMA, I'm in a show at Stanford's Cantor Arts Center, and in another at MoMA. Then there was this collaboration with GX1000 which is incredible.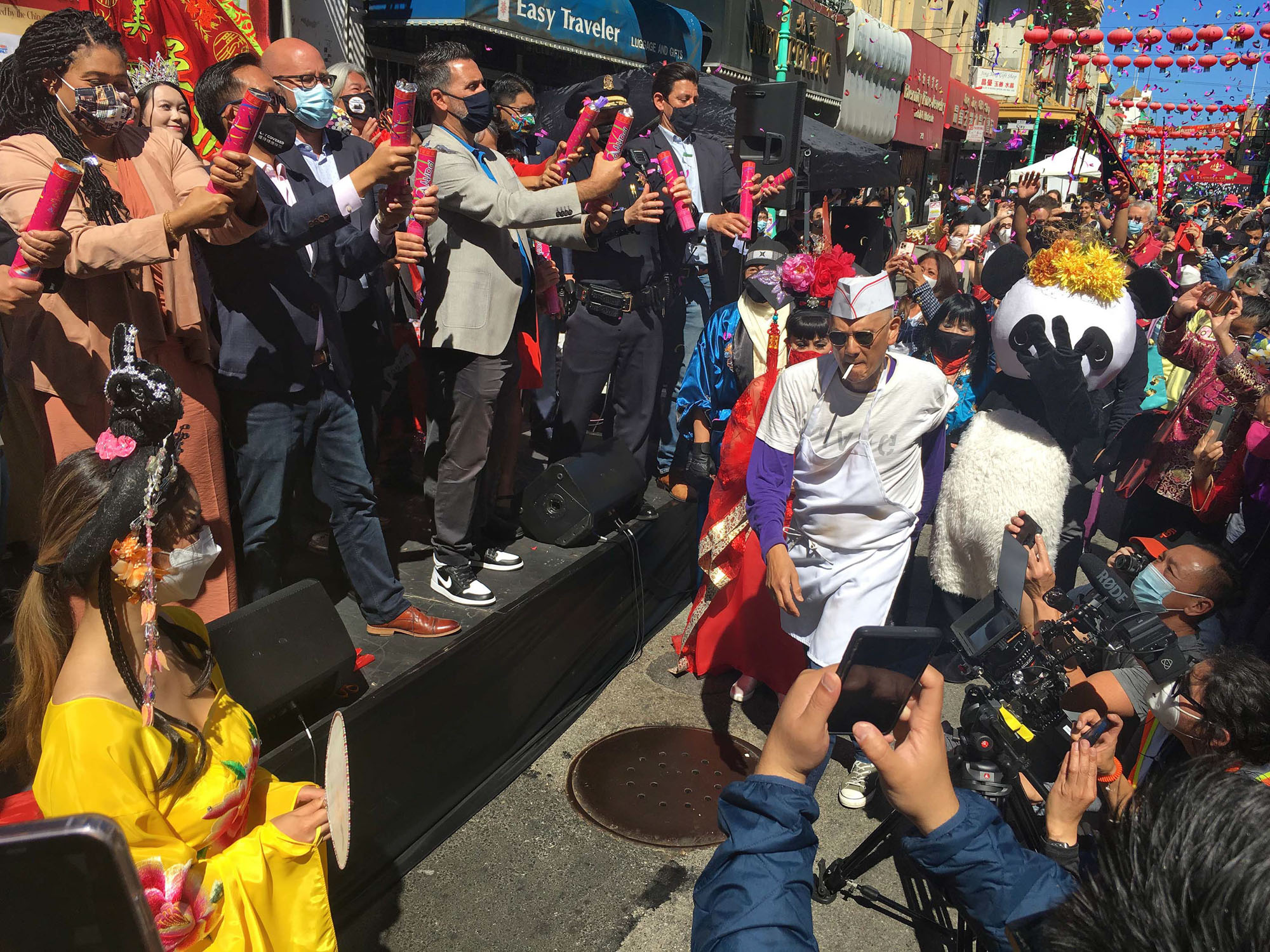 How did that come about?
I mean, people just hear about you. I wasn't aware that there is this connection between street photography and skateboarding. I feel like we created something that's definitely different, not the usual graphics and stuff that you normally see.
It's been fascinating to watch everything you've been up to the last few years. Before you seemed content with sharing images from your archives but now you're pasting these photographs from the 70s all over San Francisco.
It's backward in the sense that I'm already in museums with my fine art photography and now I'm hitting the streets. And now it's gone full circle from the streets back to the museum! I don't know what to say about it except that it's fun and I'm in a completely different creative space when I'm doing it.
There's always been a lot of playfulness in your photography. This all seems to be coming from the same place.
Totally, I've always been mischievous. I like screwing around with people, throwing 'em off. I'm just a goof. So while I'm not taking pictures anymore or breaking into events with a fake press pass like I did when I was younger, I still have that same method of operation when I'm working on the streets. There's an adrenaline rush that comes with the unknown.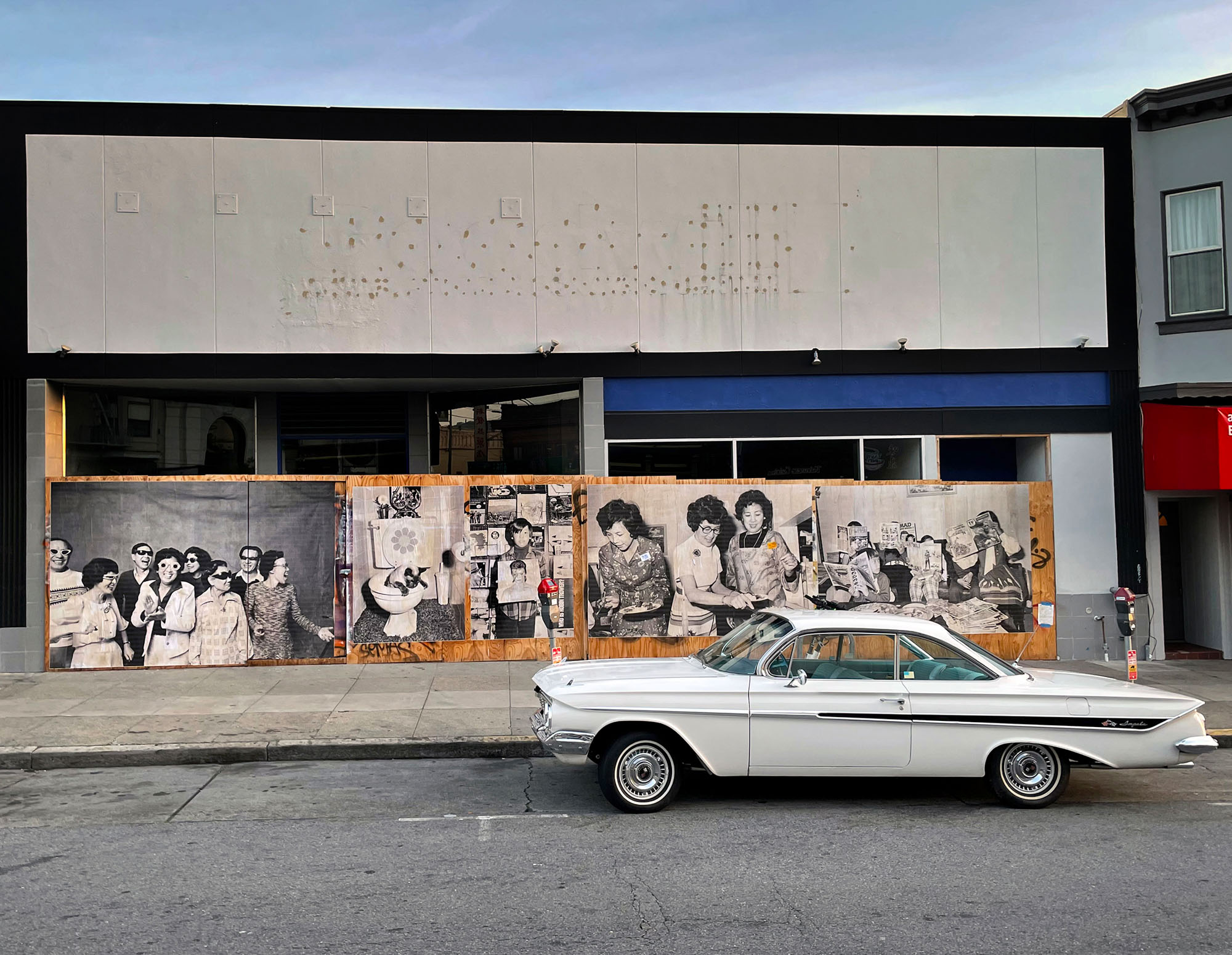 Did starting to work on the streets re-light that spark? I remember you telling me you didn't feel a need to make new pictures.
In the beginning, I was a little tentative, even a bit scared. We didn't want to get caught. When we were done it felt really good. It was like we created a new way to have fun. When I try to do these things at home in the studio, I can't. It's not there… I could probably do it but I don't even want to. There's something about the streets and being out there. There is a magic that's happening and there's an x-factor that I don't have in my studio.
It's evolved quite a lot since you first started. You have a whole new following of people who have encountered your photography on walls, and in the streets.
People see it and shoot it as their own artwork. They post it and tag me, then I repost it again and it's become this circle. It's only in retrospect that I'm reflecting on what's going on here. And to be honest, I'm not sure where it's going, but I'm taking full advantage of the tools at hand. It's free and it's fun and it's certainly kept me occupied for the last two years. No one was giving me a show so I just put the work out on old boarded-up storefronts that were closed anyway. This brings me to another point. The destination for this work seems to be for the people, for free you know?
Stay tuned for the rest of our conversation with Michael Jang and catch the opening of his upcoming Lee Gallery exhibition presented at Crown Point Press in San Francisco on December 8, 2022, 6–9 pm
%MCEPASTEBIN%