When you first look at the new solo show of Amy Bennett's, Open Season, on view now at Richard Heller Gallery in Santa Monica, you don't have to be conscious of the fact that some works were started in 2019 and some completed at the present. The conversation of home has changed, where he habitat has changed and even our ability and desire to congregate with others has changed, but the beauty in her works is that we can see ourselves having a conversation about our change standing right in front of the works themselves. She gives us a moment to breathe, to laugh, to reflect, to understand what it is we can tell is different in ourselves from 2019 to 2023. And that is Open Season. 
Evan Pricco: Maybe this is relevant or not, but how many homes have you lived in your life?
Amy Bennett: I'm a real homebody and workaholic with a preference for the kind of stability needed to support those tendencies, so I haven't moved around much. I grew up in two different houses in Maine, that of course live large in my memories. The first was a small cape with a terrific attic space that was a thrill to visit as a little kid. The house abutted a field where my Dad would take my sisters and me snowmobiling. We moved to a house with a balcony, which felt like an exotic architectural detail at the time, and a pool that I lived in and continue to fantasize about. My family vacationed in RVs, which feels like a rich storytelling environment for its condensed living space and total lack of privacy. There were dorm rooms, of course, and a couple of apartments in college.
Then I moved to a studio apartment in Brooklyn, where my easel was situated amidst the tight and dicey triangle of a hot cast iron radiator, a mini gas range, and a fridge. The fire escape looked into a courtyard not unlike the one in Rear Window. My husband and I upgraded to a one bedroom in a building that was once a hotel, with about 300 other apartments in it. I loved getting to know people to the very limited extent you can while sharing an elevator over the years, and no more. Everyone felt like a character or an extra. Overhearing drama from neighbors on all sides and from behind the closed doors of long hallways triggered my imagination in the same way a book of short stories might. After having our son, we moved to house built in 1895 just north of the city in the Hudson Valley. I built a studio on our property and enjoy walking our kids to school and tending a little garden.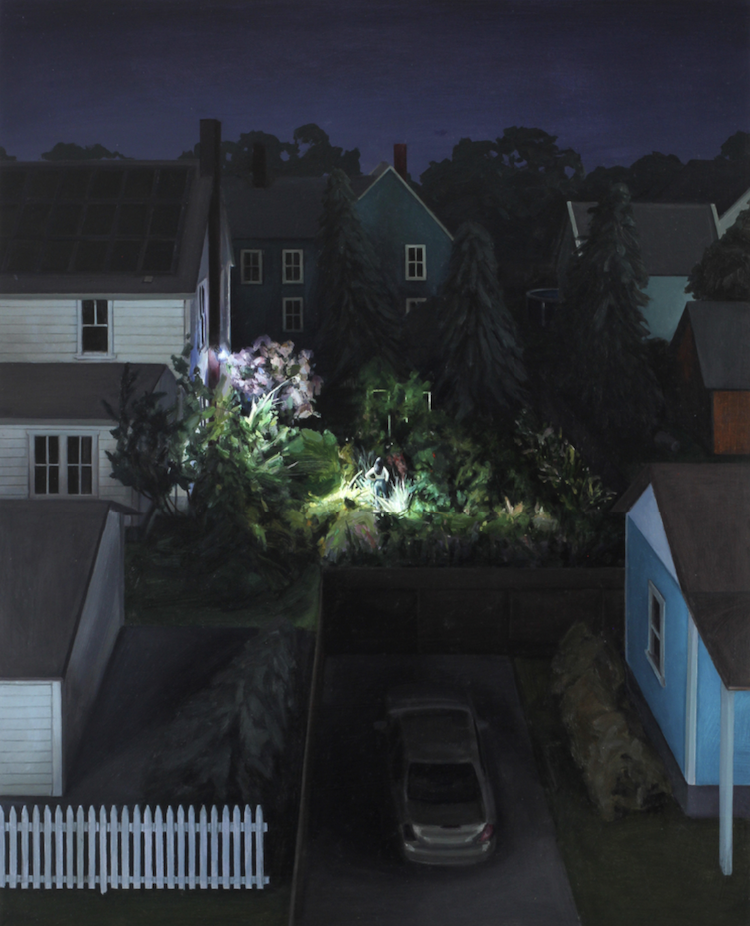 How do your memories of homes resonate with you when you make these works?
I often draw on my experiences and observations of places I've stayed in to create new settings. Rather than starting from scratch completely, it's often easier to base a location on something in particular, or the combination of a couple of sources. There are often interesting details I wouldn't think to include on my own, that make a place feel specific and believable. At the same time, I'm never interested in making an exact replica of a place. I might use a specific location, situation or person as an inspiration, but it's just a starting point to be combined with other influences and imagination to create something new, a fiction that I have complete control over. 
I read that these works were made before the pandemic, which is so interesting because most of us during the lockdowns really began to think about home and the ideas of how a home was set up and our survival in a home. This is so vital in looking at the work. Did your opinion change about the idea of home if you were to paint these works in 2023?
About a quarter of the paintings in Open Season were begun before the pandemic. I made a substantial model inspired by attending a 4H fair, and noting with curiosity that it seemed to attract both extreme ends of the political spectrum. I wanted to challenge myself to make images outside of the domestic realm. Painting crowds in the open air seemed like a counterbalance to the isolated interiors I had been immersed in. But it wasn't long into lockdown that the theme felt too disconnected from our alarming new reality. We could finally see what a paradise we'd lost. In the very limited studio time I had then, with two kids suddenly needing to attend school at home, I returned to scenes in the home of marriage and family, that in hindsight, reflected a lot of grief, anxiety, and exhaustion.
I endured that time with a fantastic partnership with my husband who was suddenly working from home at our kitchen table and even sharing my studio space along with my son. It was a huge adjustment to negotiate that new lifestyle. He learned to step up more with parenting and chores around the house, so I could paint and exercise to maintain sanity, and most importantly, he kept me laughing through some very challenging times. That series, Land of Plenty, was shown at Galleri Magnus Karlsson in Stockholm just before my children were finally able to take their masks off in school. Life lightened dramatically after that, and so did my paintings. Instead of feeling trapped at home in a cacophony of zoom classrooms except for stressful, hazmat attired runs to a raided grocery store, with balance restored, I enjoyed renewed appreciation for home life, health, and the freedom to live life without a continual risk assessment over every germ exposure.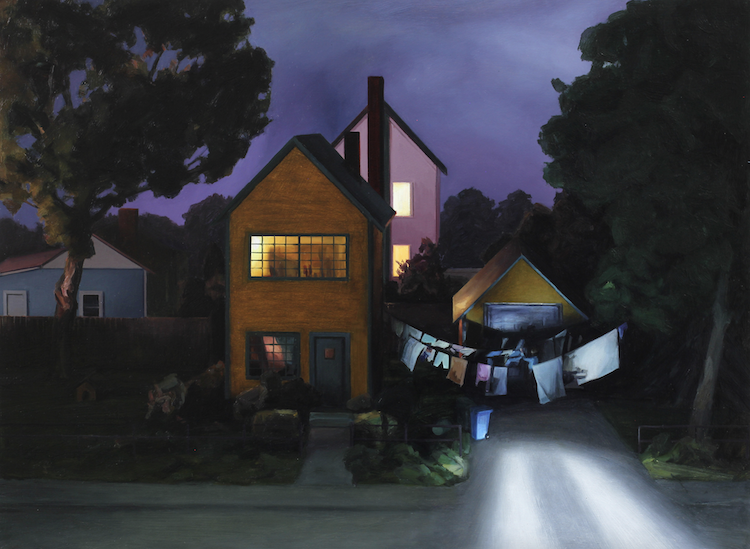 I like that you mentioned humor when speaking about Open Season, and even thinking about optimism. Where do you see the works being optimistic?  
The characters of Open Season are content to share a tiny bathroom, or to bask in the glow of the microwave while fending for themselves, and are game to take in the laundry or garden at night because life is that full. We can enjoy chance encounters, school, and be part of an audience again. We have returned to over-scheduled lives with the knowledge that most of it is unnecessary, it is the cherry on top. Much has been said, too, about the pandemic's awakening us to our interconnectedness as a human race and with nature. While it feels embarrassingly lofty to say, some of the paintings may channel our hope for more tender and responsible stewardship towards our planet and each other. 
When you look at the works made in 2019, and then the ones created since, what do you think the viewer will notice? 
I'm not sure they'll notice much of a change since I resumed working from my fair model for a couple of paintings, and there isn't any conspicuous evidence of the pandemic in the imagery. Isolation and introspection have been common threads in all of my work, and stylistic evolution is so slow it's barely perceptible. I've never been more grateful for time spent in my studio, or more in love with painting and its capacity to communicate through brushstroke, color and light. So perhaps, if anything, people will notice I've painted with renewed energy and empathy.
Open Season is on view at Richard Heller Gallery in Santa Monica through February 11, 2023
Check out some of our recent short videos: