Welcome to our column, "Hey, Quick Question," where we investigate seemingly random happenings in the fashion and beauty industries.
Awards season is always full of glitter, glamour and conversation-stirring styling. But after Hollywood's elite walked the red carpet of the Golden Globes on Jan. 10, there was something noticeably absent from the majority of show-goers' looks: a necklace.
For as long as red carpets have existed, so have celebrities sparkling in the most eye-catching, statement-making necklaces. In fact, the business of jewelry lending dates back to the 1930s, and has become a phenomenon of sorts, leading to some of the most iconic moments in Hollywood fashion history.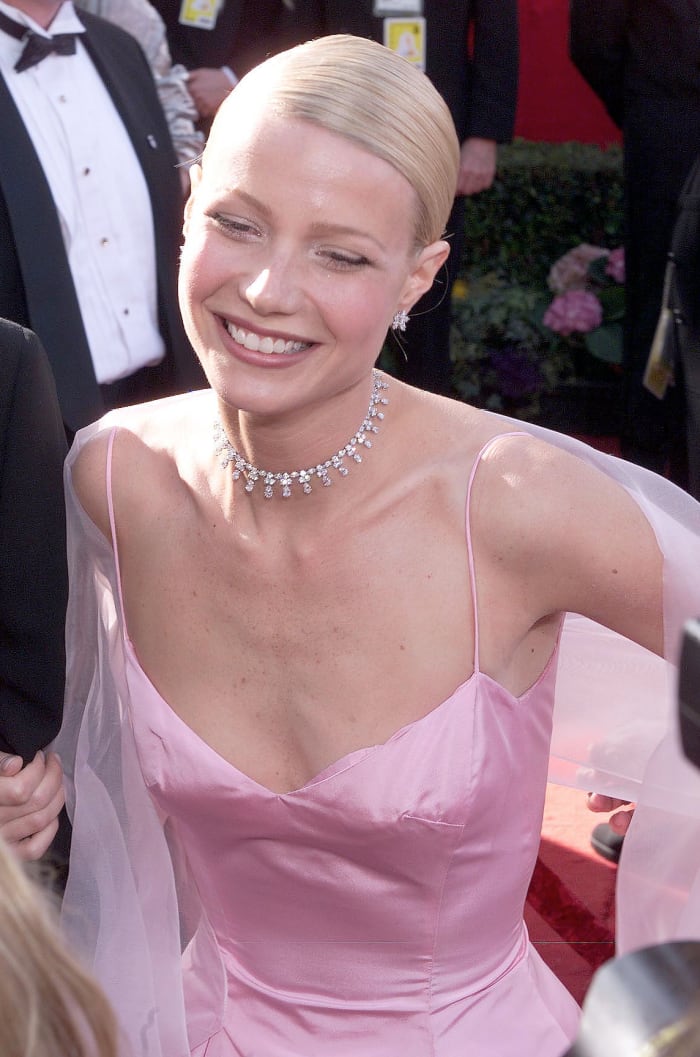 Necklaces have also been the subject of some of the biggest red-carpet headlines over the years. When Gwyneth Paltrow wore a $165,000 princess-cut diamond choker to the Academy Awards in 1999, her father famously purchased it for her after she won her category that evening. Fast-forward 20 years, and Lady Gaga wore the reportedly $30 million Tiffany Diamond to the 2019 Oscars — which had last been worn by Audrey Hepburn on the "Breakfast At Tiffany's" press tour. 
While stylists and jewelers alike once searched for the most attention-grabbing, expensive and, at times, controversial neck accessories, it seems as though the tides are turning in Hollywood. At the most recent slew of award shows, stars like Selena Gomez, Daisy Edgar-Jones and Quinta Brunson (only to name a few) were spotted with a completely bare décolletage.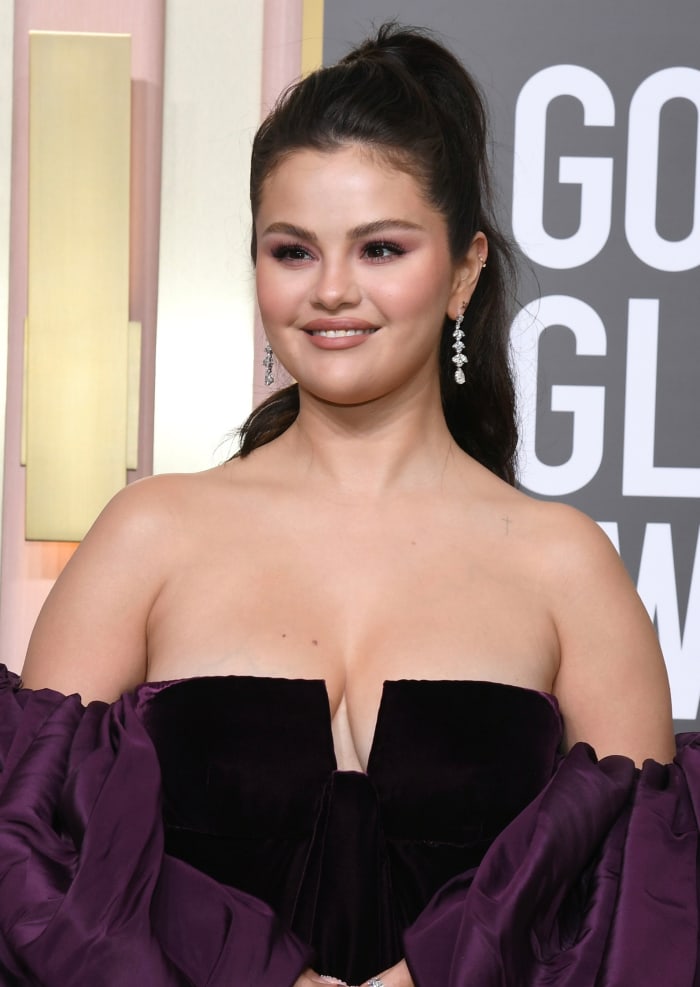 When it came to styling rising star Madelyn Cline for the 2023 Critics Choice Awards, Mimi Cuttrell says the feathered Givenchy dress the actor wore was a statement on its own: "I wanted it to be more about the dress, and thought the earrings were the perfect compliment to that. I did not want the jewelry to overpower or compete with the look, and a bare neck kept it feeling youthful and clean."
This notion of youthfulness appears to be the common thread throughout the majority of stylists' no-necklace decision-making.
Mary Fellowes — who has been embracing this trend for several years now — tells Fashionista that she's relieved to see fewer necklaces on the red carpet. "I find high-jewelry necklaces can be extremely aging," she says. "Most of their design has not changed much in a couple of centuries, so I rarely use them." 
Fellowes also notes that statement necklaces of high value can present a sometimes vulgar display of wealth. In the time of a pandemic, war and living crises, she feels that "mindless extravagance just feels so out of touch and obsolete."
Mickey Freeman, a New York-based stylist, also omits necklaces in an effort to avoid a sense of extravagance: "[A clear décolletage can help] create [another layer] of texture […] without crossing the threshold of them coming across as merely an ostentatious display."
Freeman also believes the current resurgence of a no-necklace trend traces back to Dior's Spring 2022 Haute Couture collection. On the runway, not a single necklace was displayed — instead, necklines were met with with bare collarbones.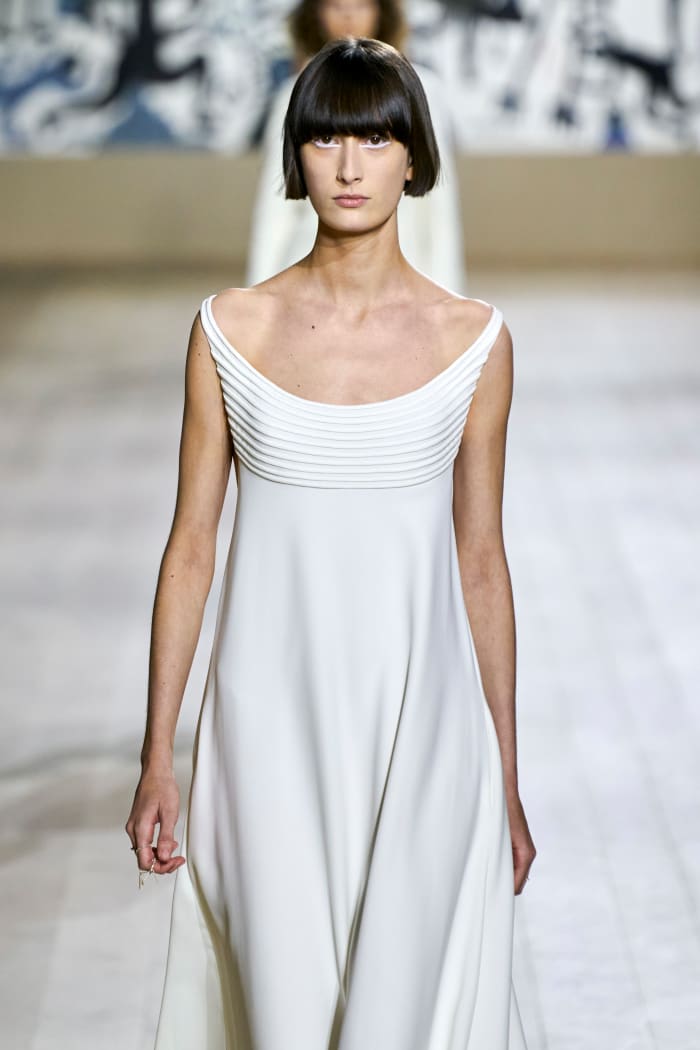 Freeman echoed the preference for a youthful display, saying, "[the female collarbone], in my quasi-biological opinion, perpetually signifies beauty and youth."
The unclad neck may not be new, but this current red-carpet fad has many people expressing concern about what we're seeing (or not seeing) this awards season.
How are celebrities balancing out the lack of ornamentation? Stylists are opting for statement earrings to add a touch of sparkle, without taking away from the cleanliness of a spotless neck. 
Laura Sophie Cox — who styles "The Bear" actor (and rising fashion queen) Ayo Edebiri — tells Fashionista that a "simple […] diamond top earring [can] add a twist to the tailoring within the look."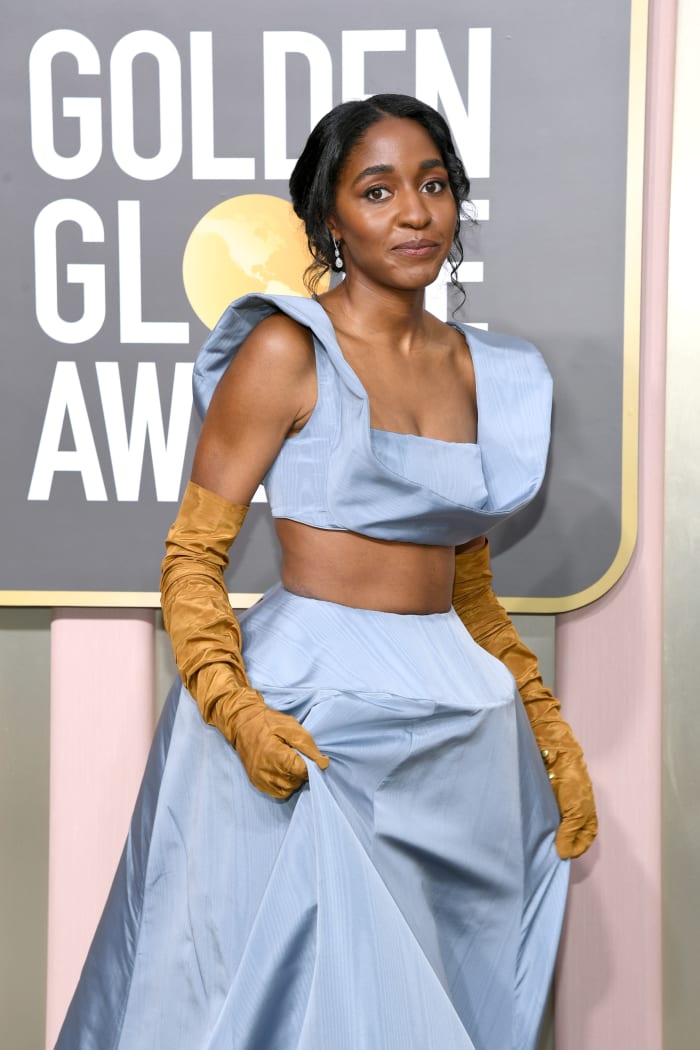 Though the absence of jewelry has claimed the attention of fashion commentators everywhere, the fact is that, just as with any trend, it's only a matter of time until oversized pendants steal the limelight back. 
In the meantime, embracing the mentality of "less is more" seems to be key to a classic, effortless look. As stylist Holly White says: "Don't be afraid to show off your décolletage. It can be empowering and give you confidence."
Want the latest fashion industry news first? Sign up for our daily newsletter.